Custom System Interface Designs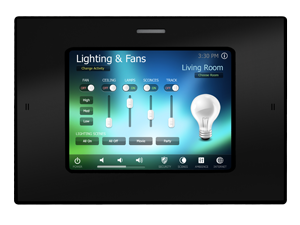 We make using today's technology easy with a complete line of home control solutions. With the ability to control the home theater, whole house audio, lighting, HVAC, and security to name a few, we provide a simple, unified interface for today's home control demands. With a complete lineup of handheld and in-wall controllers, as well as powerful system processors, we can integrate virtually any home environment for a truly enjoyable control experience.
Control systems allow every member of the family to easily operate even the most sophisticated home theater. With one-touch control and automation of audio, video, and lighting systems, we can eliminate the clutter and confusion of multiple remotes, so more time can be spent enjoying the home cinema experience.
Managing the ever increasing technology options throughout the home can become overwhelming. Our systems can put the homeowner back in command of these technologies by bringing together control of electronics, whole house audio, lighting, security, and HVAC into one, simple interface. Whether in-wall or wireless, the products we carry offer tremendous flexibility, allowing for a control interface tailored to each homeowner's automation needs and technical aptitude.
Now bringing control to the outdoors with a line of wireless control products. Whether it's a patio, pool, or backyard, our products offer a solution to take control of home entertainment outdoors. Imagine being able to change radio stations or a music library with a simple button press while relaxing in a pool or hot tub. With a control system, outdoor home entertainment is just a click away.
Automation and Control in Business
The last thing people want to be concerned with when preparing for a business meeting or presentation is the operational details of the conference room equipment. We can bring together control of audio/video systems, lighting, shades and more into a simple, intuitive interface, allowing users to easily take command of today's communication technologies.
Our control solutions provide reliability and flexibility to control the entire room with the press of one button. So when a transition needs to take place such as dimming the lights, lowering a screen and powering up the projector, the leader can make the change with the confidence that it will work, every time.
AMX – Touch Panel Control
With 10 years experience in home automation and a large mobile/web development team, Touch Panel Control Ltd are focused on innovating for AMX control solutions. We are avid users of AMX and all love our gadgets, so with an eye on professionalism and quality, we will be working to provide the AMX installation community with tools to gain a competitive advantage .At Touch Panel Control it is our intention to set new trends within the automation industry. Our team of software developers are dedicated to delivering innovative options to enable you to interface with leading control system manufacturers and provide a more affordable solution to take advantage of the variety of technologies available.
RTI – RTiPanel Application
The RTiPanel app is a perfect example of how today's electronics are converging in new and exciting ways. Fully customizable using RTI's Integration Designer® programming software, the RTiPanel offers the same intuitive control experience RTI remote controls offer, running on an Apple or Android smart phone or tablet device. Providing secure local or remote access to an RTI XP series control processor from any Internet connection, the RTiPanel allows for LAN control via Wi-Fi and WAN control off site. Users can view and adjust thermostats, monitor security systems and turn off lights, in addition to controlling their A/V electronics, from the office, on vacation, or virtually anywhere in between. The RTiPanel app is also available for local, one-way control using the RP-4 control processor.
Vantage Controls – Equinox
Vantage, the leader in lighting‐centric integrated control systems for luxury spaces, announces the September 2013 release of Equinox 73 and companion mobile device apps for Android and iOS. For owners and users, the refined living experience they expect is often paradoxically linked to complex control and automation solutions. Vantage's Equinox family of products provide a simple yet customizable interface that, when linked to its powerful InFusion system, delivers the means to efficiently create flexible, personalized spaces with a subtle aesthetic.